Door and Window Experts
We have the most experienced and knowledgable
staff around but have always been
higher in our prices then our competitors.

We want you to have the best of everything:
Best products,
best staff, best installers and
now even the best prices.
See price guarantee page for information.
Bring us your quotes you may be pleasantly surprised.
Interested in using funding from the Hero Program? We are trained to be your advocate to get you financed.
We will help you become qualified for the Hero Program.
I hope you can find out why we
were voted the best in the Inland Empire.

This year, we swept both categories: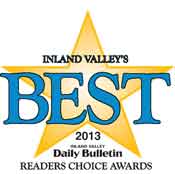 DP DOOR voted best window company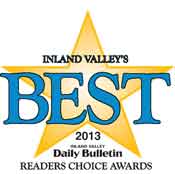 DP DOOR voted best door company
Sample of our new prices:
Example of Milgard 6068 Tuscany Patio Door Sept 2013.
You would think Home Depot is hard to beat. Nope, we
beat them on many doors and windows.

All offers, discounts, price guarantees, hero program financing, need to be confirmed at time of order. Any offer not reflected on the invoice/contract are not valid. Offer is for a limited time and we may end any offer with out notice.

Links to pages of this website:
Milgard Windows and Patio Doors
Gallery: Doors & French Doors
Gallery: Windows and Sliding Glass Doors in homes
DIY Milgard Vinyl Windows and Sliding Glass Doors
FRONT DOOR PICTURES AND INDEX
(a whole bunch of doors to pick from)
Test Market Exotic Doors
(INDIA EXOTIC)
Milgard's web site
A description of out Rancho Store:
[note: the Claremont store/showroom is my office and I am in and out all day, it is best to make an appointment to be let in to the Claremont Village store, that may sound unusual but many people do it and it works well.]
The rancho store has regular business hours and you can go 9 to 5 week days or 10:30 to 2 on sat. The Rancho store is HUGE, one of the best in Souther California. People come from L.A. to Palm Springs to meet our exceptionally knowledgable staff and see our one of a kind displays.
This picture was taken by Captain Bret Viets. This store has life size displays that are built into real walls so you can slide windows and sliding glass doors and see real double doors.
At DP Door's showroom we have 10 foot french doors, 10 foot sliding glass doors, 8 foot tall front doors as well as real double entry doors for your house. We have front and patio doors with sidelites some with opening sides. Also on display are a variety of interior doors, exterior house doors and wardrobe closet doors. Everything is available as pre hung for DIY or for the professional.
Styles include Rustic, Contemporary, Craftsman, Classic, Exotic, Modern, Understated, Wood, Fiberglass, Metal, Vinyl, Clad.
Main service area: Claremont, Upland, Rancho Cucamonga, Highland, La Vern, San Dimas, Chino Hills, Diamond Bar.
We supplied doors to contractors and builders and homeowners.
DP Door is a registered Hero Contractor for your door window and solar needs.
The better contractors send their customers to us and we help them pick out doors or windows. The contractor may have their own installers or they may use us.
For installation, contractors find it is safer to use us for the high end doors. If they buy from us and we install; any problems are usually our responsibility.
We do all types of doors; simple interiors, side garage doors, and of course french doors and beautiful front doors.
This main displaying showroom is located next to the border of Upland and Rancho Cucamonga. If you turn left out of the parking lot your on 16th street (as it is called in Upland) to the right is Baseline as it is called in Rancho Cucamonga.
The store is open 9 to 5 weekdays 10:30 to 2:30 on Saturday. We can make arrangements for other hours if you have to work late.
I run the Claremont store. It is small but we have a little bit of everything to help understand the types of materials.
The Claremont store does not have set hours, I look at several projects a day and have to close the store when I am in the field. Generally customers call me and we make an appointment to either meet at their house or at the store. If the house is really old or unusual I need to see the house, if the customers wants help picking out doors or windows or wants to get prices we usually do that in the store.
Pricing in either store (Rancho or Claremont) is easy if you have rough sizes and know roughly what year your house was built. A cell phone picture helps too.

RANCHO CUCAMONGA & CLAREMONT LOCATIONS
THINGS TO KNOW ABOUT WORKMAN'S COMP
Hero Program for windows doors and solar.